Looking to update your existing law firm or create a new website? Do you want to have a strong online presence for your law business? Look no further. This collection of specialized lawyer WordPress themes is what you need. These themes are designed specifically for legal firms, and they come with a variety of features that can help you create an effective and informative website.
These themes come with features that let you highlight your areas of expertise, show off your winning track record, and share case studies and client testimonials. This helps potential clients make informed decisions and encourages them to contact you for an initial free consultation.
Which Aspects to Keep in Mind When Choosing a Lawyer WordPress Theme?
A lawyer WordPress theme is a pre-made design template created for law firms, attorneys, legal consultants, and other legal professionals to build their websites on the WordPress platform. Lawyers WordPress themes typically include sections to showcase practice areas, attorney profiles, case studies, testimonials, contact information, and other elements essential for a law-related websites.
When choosing a lawyer WordPress theme for your website, it's important to remember that not all themes are created equal. There are many factors to consider. To help you navigate this selection process, we've outlined the key elements you should look out for.
Practice Areas
Practice areas are the essential part for any lawyer's website. They help visitors navigate the wide range of legal services your firm offers. With carefully written content, you can highlight your firm's specialization and demonstrate your expertise in the legal field.
Whether it's corporate law, family law, criminal defense, or another area of law, the practice areas section should provide potential clients with a clear path to understanding their legal options. This section should inform and offer confidence in your firm's ability to address their unique legal needs.
Contact Section
A contact option is a must-have for any law firm website. It's a direct link between potential clients and your legal expertise. It provides a user-friendly way for visitors to get in touch with you and ask for legal advice or consultation.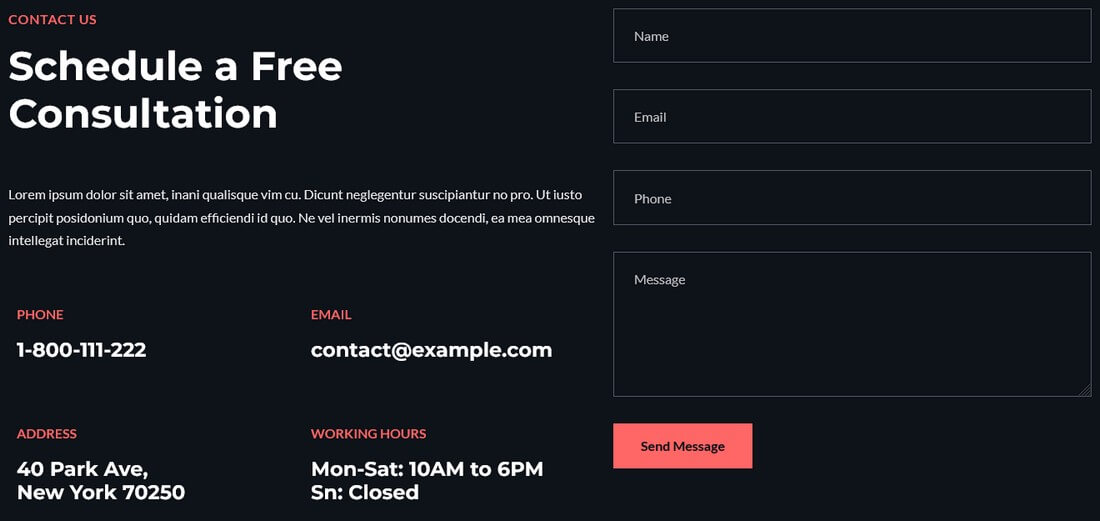 By providing essential contact information like phone numbers, email addresses, and physical address if applicable, you show that you are approachable and credible. A well-crafted contact form can further simplify the process, making it easy for visitors to send you messages. The contact section should be prominently displayed on your website ( either at the top of the page or in the footer ), so that visitors can easily find it. A separate contact page is essential.
Case Studies
An important aspect of a lawyer's website is the significant case studies section. Case studies are a great way to show potential clients what you can do for them. By sharing real-life stories of how you've helped other people, you can build trust and credibility.
It's also important to personalize your case studies. Share the stories of real clients and how you helped them. This will help potential clients connect with you and your work.
We carefully selected a variety of law firm WordPress themes that can help you enhance your website. From responsive layouts that adapt seamlessly across devices to integration with legal-specific tools and plugins, these niche attorney themes are among the best. Explore our collection and find the perfect theme to reflect your legal practice's identity.
Best WordPress Themes For Attorneys & Lawyers
Conclusion for Law Office WordPress Themes
In conclusion, for a robust online presence in the legal field, explore our curated selection of specialized lawyer WordPress themes. Crafted exclusively for legal firms, these themes offer a range of features to build an impactful and informative website.
With the ability to showcase expertise, highlight achievements, and share case studies and client feedback, these themes empower potential clients to make informed decisions and initiate contact for consultations.
Selecting a lawyer WordPress theme requires considering various factors to ensure it aligns with your firm's needs. From effectively presenting practice areas to providing a user-friendly contact section, each element plays a role in conveying credibility.
We recommend the Atis theme as the ready to go for your website. It's professional, good looking, top-notch support. With the help of Elementor page builder anyone can build law office website. We like to mention Liberis for its simplicity and its pages are created only with WordPress editor and Volenti for bold dark version look.
A professional lawyers website isn't just a presence; it's a tool that significantly impacts law practice success.